A first version of an interface has been finalized that allows the usage of show up profiles for each individual flight. Besides the higher level of detail that can now be covered resulting in more accuracy of your Security Forecast, a huge advantage of the interface is the automation of updates of your show up profiles which results in more accurate security forecasts.
The frequent availability of boarding card scan data or other data sets on single flight level was the main driver and basis for the development of this feature.
Key benefits:
More detailed show up profiles – Single flight level resulting in more accurate Security Forecasts
Automated updates of the profiles via the API
Machine learning to continuously derive updated show up profiles from the raw boarding card scan data resulting in more accurate and customized Security Forecasts. This functionality is still in the conceptualization phase and it is expected to be released later.

BEONTRA's passenger flow simulation tool Terminal Capacity within B Capacity has been used to forecast passenger numbers at security for many years now. Together, the BEONTRA community has always driven the improvements in the accuracy of these forecasts. First and foremost, the underlying flight by flight passenger load forecast is of course the most crucial element. However, the terminal model with all its parameters and hence the accurately modelled passenger flows plays an equally important role to get the expected passenger numbers for each specific security check area over the day right.
One of the key elements of this model and a main driver for accuracy are the show up profiles – for the non-Terminal Capacity experts, these describe how and when originating departure passengers show up to the airport before their flight: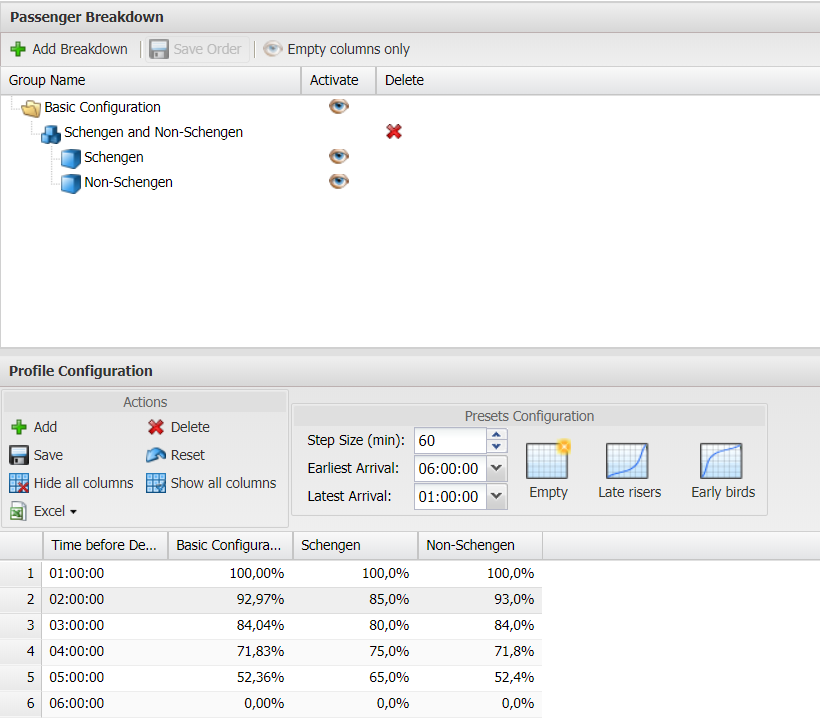 Above, it is shown how show up profiles are being defined in the system. This approach is still working very well and achieving very good results, especially when data availability is not ideal.
However, the fact that boarding card scanner data and other comprehensive data sets covering the show up behavior of passenger become available more and more readily drove the development of this new interface, which enables the system to read show up profiles for each individual day and flight. These detailed show up profiles are then used as the primary source for show up profiles. Should any flight not be covered, the profiles in the system will work as a fallback. As a result, two major improvements result in a more accurate Security Forecast for your airport. On the one hand, the more granular level of show up profiles is (based on the right data) per definition an accuracy gain. On the other hand, and equally important is the possibility to automatically update the profiles.
Using these external show up profiles (external because they are not provided by the user in the system, but automatically extracted from measurement data) is as simple as checking a box (please see screen shot below).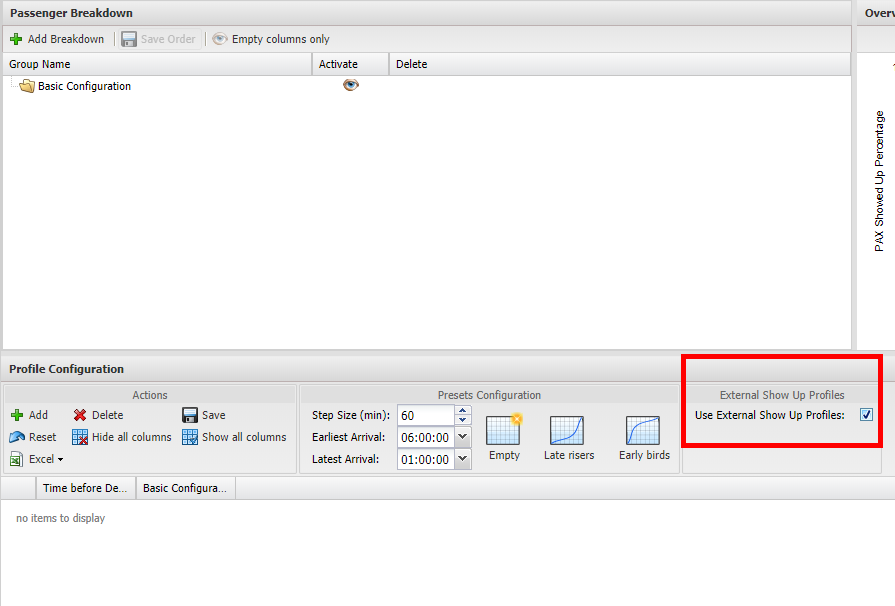 The prerequisite for show up profiles on a single flight level is a comprehensive data set and data source. The most prominent one is boarding card scans. This data is the source for deriving the show up profiles. On top of this, source algorithms can be applied to find similarities and patterns. We are currently conducting research on applying machine learning on top of the boarding card scan data to derive show up profiles. Once results are available, we will be sharing these and complete our offer regarding show up profiles on a single flight level.
The interface we build is a standard interface which enables any 3rd party application to connect to it. That means if your airport is already experimenting with algorithms to predict show up behavior or has already mechanism in place, we would be thrilled to connect them and see how we can improve your forecast.
As an example, our longstanding customer, Amsterdam Schiphol Airport has worked on a prediction model for show up profiles successfully. With our new interface and the usage of the detailed show up profiles in B Capacity we are now conducting validations to examine the improvement of the forecast.
If you want to know more about this topic or the outcome of the validation, please contact us.