Solutions
The BEONTRA Scenario Planning Platform
BEONTRA Scenario Planning
Solutions
All cloud-hosted solutions are enhanced with supporting services to ensure you get the most value out of our products. Our consulting services help you get familiar with the BEONTRA products, industry best practices and consequently guide you on your way to excellence.
Read about our solutions to
find your own forecasting truth: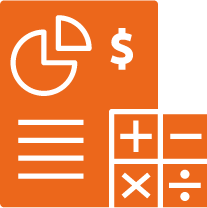 Budget Forecast
Create your flight schedule-based aeronautical revenue forecast for the next season or fiscal year. The flight-by-flight forecasts of your passenger and revenue numbers are based on your schedule, always keeping an eye on your growth targets.
The Budget Forecast solution enables you to create schedule-based forecasts of passengers, baggage and freight. The budget forecast combines different data sources or multiple studies on individual markets to achieve a single, collaborative forecast. Your budget forecast can be created within a matter of minutes as the intelligent Machine Learning algorithm provides you with the most accurate forecast possible based on patterns found in your historical flight schedule and traffic information.
Afterwards, you still have the opportunity to enhance the forecast and apply manual modifications. This is also made easy as the solution provides you with expert suggestions on where it is most effective to apply alterations. The final budget forecast can be declared as the master forecast, so that other departments can base their planning work on yours.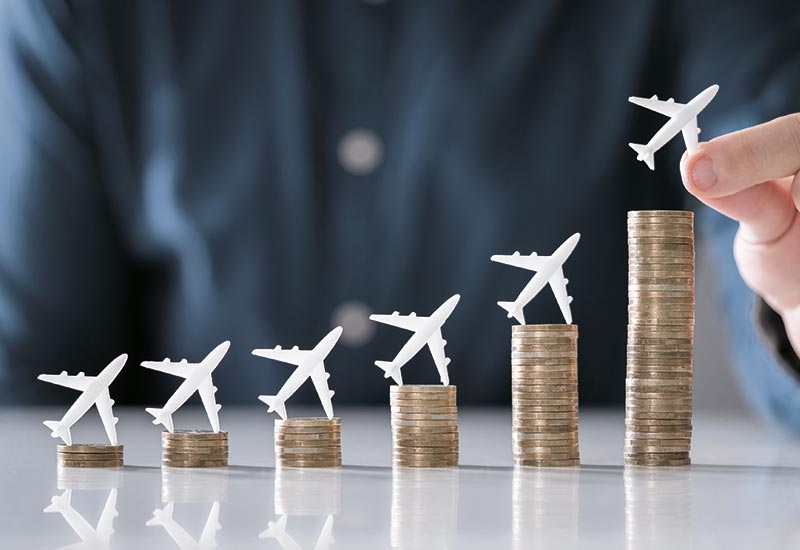 Benefits
High accuracy provided by the underlying intelligent BEONTRA algorithms
Easy-to-use, intuitive and acts as a time-saver via task automation to enable more value-adding work along with the reduction of manual processes
Collaboration platform for focused decision making using a centralized source of forecasting data
Features
Tailored for the aviation industry to support planners, analysts, supervisors, senior-level personnel and external stakeholders
Scenario comparison for knowledge-based decision making on key forecasting and planning actions
Smart, supporting and guiding system to help maximize the value generated by the user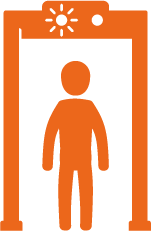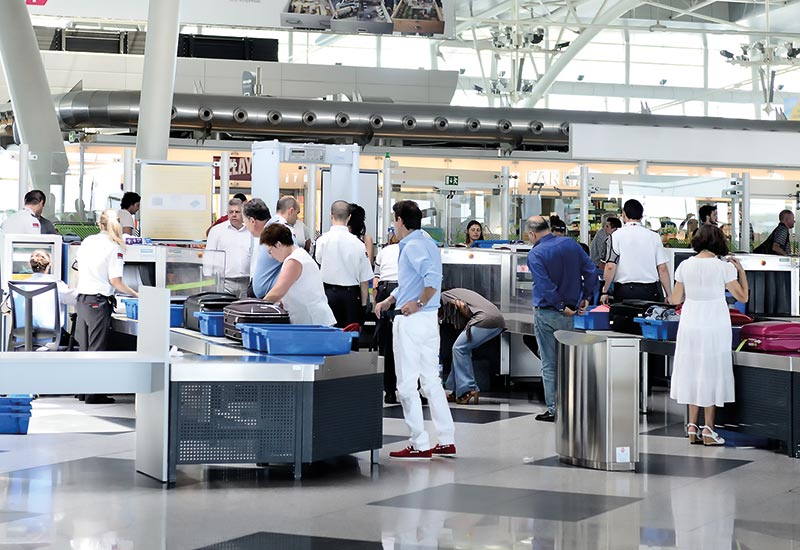 Security and Immigration Planning
Optimize the number of open lanes at your security or immigration points by balancing passenger queueing time and operational expenditure.
The Security and Immigration Planning solution simulates the passengers' behaviour and evaluates your staffing plan for these areas. This helps you understand where operational improvements and cost savings can be made.
Retain full control over the most important parameters affecting your Security Control and Immigration such as passenger show up behaviour, passenger processing times, manning levels and much more. With this flexible solution, you can model any possible operating mode to find improvements or modifications that you might require.

Benefits
Reduce waiting times for passengers and ensure Service Level Agreement compliance
Increase the throughput of existing queuing areas and processing facilities
Optimize the capital and operational expenditures of your security and immigration facilities
Features
What-if analyses to examine any potential operating condition at your terminal
Resource optimizer to provide feedback regarding over- or understaffing of facilities
Flexible facility settings to achieve maximum accuracy in predicting infrastructure performance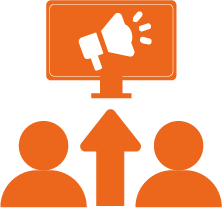 Operational Terminal Awareness
Foresee potential upcoming bottlenecks or conflicts at your terminal, allowing you time to re-locate staff or take preventive measures.
The Operational Terminal Awareness solution empowers you to carry out proactive disruption mitigation within your terminal via near real-time predictions. Potential disruptions are already visible a few hours before their occurrence, enabling your Airport Operations Control Center (AOCC) to introduce changes well before the disruption is predicted to happen.
With an operational dashboard customized for every user group, this solution acts as the single source of forecasting truth for all terminal stakeholders. Fast insights and suggestions in peak times and effects on the facilities can help your stakeholders adjust on the fly.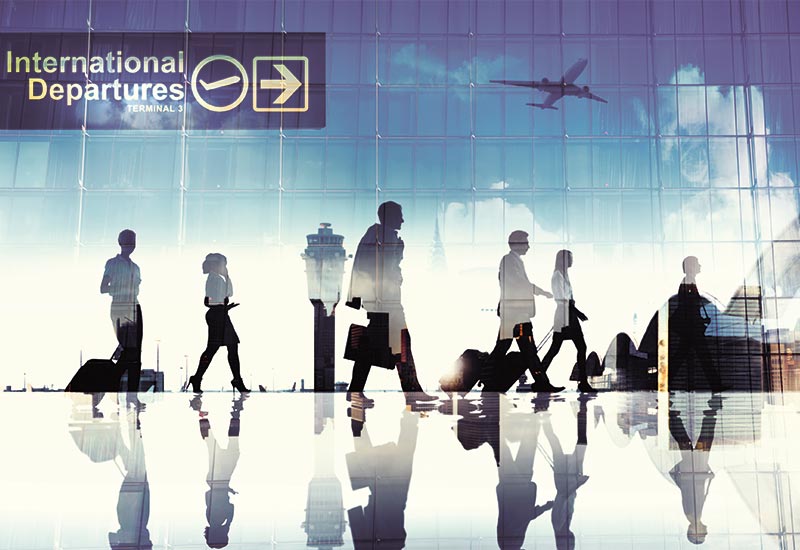 Benefits
Informative dashboard presenting you with the most important information related to (expected) queueing within your terminal
High accuracy for the upcoming operational day in predicting expected bottlenecks and queues
Single source of truth for decision making regarding the expected behaviour of passengers within your terminal
Features
Suggestions on staffing deployment, should the expected passenger queueing situation be different from the planned one
Airport Operational Database (AODB) connection to ensure maximum accuracy with respect to expected passenger show ups
Passenger queue measurement data integration to compare predicted and actual queueing behaviour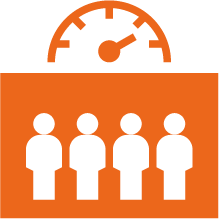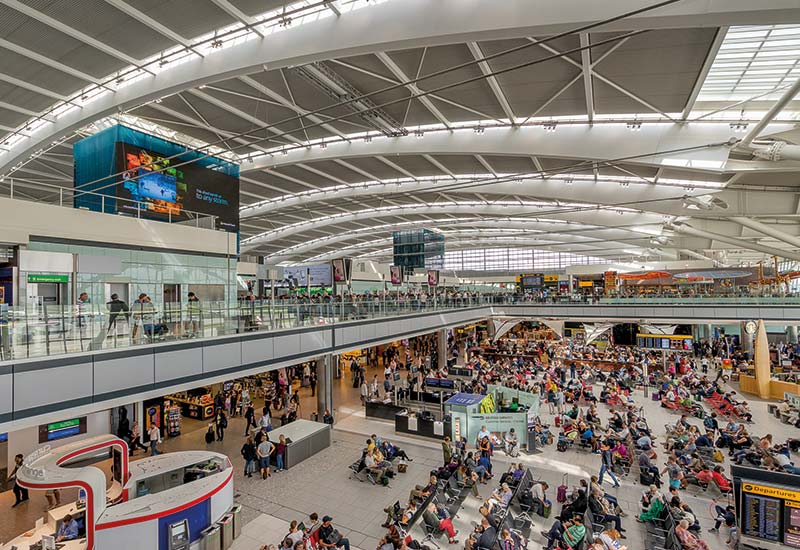 Terminal Capacity Management
Get a holistic overview of the dynamics of your terminal and passengers through Service Level Agreement planning, bottleneck identification, planned maintenance design and identification of spare capacity.
The Terminal Capacity Management solution allows you to test out an infinite amount of operational modes for your terminal. Create your capacity plan, investigate expected passenger queueing behavior and optimize the amount of operated resources (check-in desks, security lanes, etc.) in a matter of minutes. The highly flexible process model allows you to conveniently build an accurate model of your terminal and run simulations to understand the dynamics of your terminal.

Benefits
Holistic terminal overview enabling you to identify the propagation of bottlenecks
Reduce waiting times for passengers at each facility within the terminal
Optimize passenger flows and minimize operational expenditure
Minimize long-term capital expenditure by delaying expansion projects
Features
High flexibility combined with drag and drop functionality to easily and quickly set up or modify even the most challenging and special terminal infrastructure and processes
Quick scenario creation and what-if analysis to examine any potential operating condition at your terminal
Resource optimization to signal optimal operational expenditure and resource utilization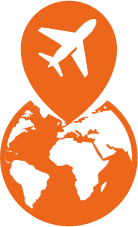 Airline Route Forecasting
Understand markets and travel patterns, identify new route opportunities and present airlines fully-fledged business cases for new routes. Our industry standard solution enables you to secure and enhance your airport's route network.
The BEONTRA route development solution covers both the analysis of past data and route forecasting. It combines widely accepted industry data, such as Sabre Global Demand Data (true OD market information based on more than 50 sources including MIDT), flight schedules and airline operating cost.
Discover the complete picture of OD market sizes, fares and airline market shares. Understand airline route networks, assess connections and find the optimum timing for new or existing routes. Our USP is the capability to create fully fledged forecasts of the market potential for new routes using airline endorsed methodologies, such as proxy markets. To further build confidence in your business case before you approach the airline, you can assess the economic feasibility of air services considering market fares and airline cost information.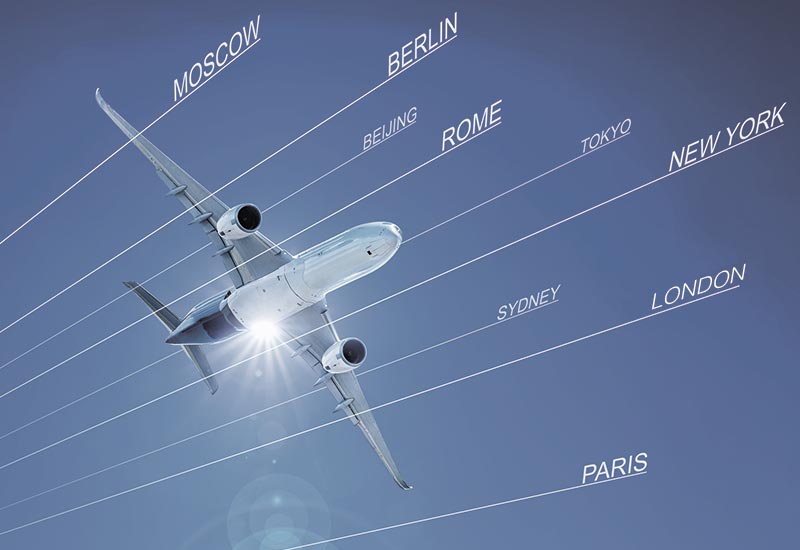 Benefits
Create convincing route cases in hours instead of days or even weeks
Build trust with your airline partners by using industry standard data und airline endorsed methodologies
Stand out through engaging airline business case presentations
Features
Analyze true OD market sizes and travel patterns by airlines and connection points
Discover route opportunities for your airport based on traffic, competition and demographic criteria
Forecast passenger loads for new or improved routes including detailed breakdown for local, beyond, behind and bridge traffic
Assess hub connectivity and find ideal flight times for new or existing routes
Analyze fares and estimate route profitability
Create striking live presentations of your business case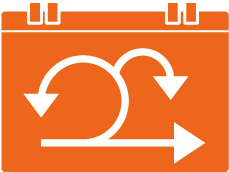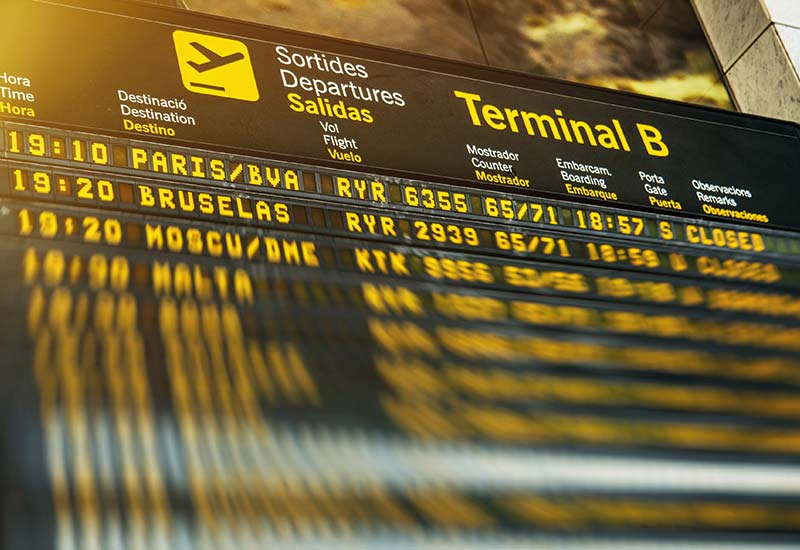 Flight Schedule Management
Accomplish your schedule co-ordination by accommodating flights from slot requests through integration into your schedule. Add flights one-by-one via airline slot requests or create them in bulk to model significant traffic growth scenarios.
The Flight Schedule Management solution provides a comprehensive way to manage, modify and adjust your flight schedule for the upcoming seasons. Set your high-level capacity constraints to check the impact of every change and accept or reject schedule alterations.
Additional capabilities include the linking of arrival and departure flight events through BEONTRA's smart algorithm enabling you to further use your schedule in use-cases such as stand and gate allocation or passenger flow simulations.

Benefits
Benchmarking with capacity metrics to help you design your schedule in accordance with airport capacity
Schedule versioning to create multiple what-if scenarios to find optimum scheduling
End-to-end guidance throughout the scheduling process to achieve results quickly and effectively
Features
Flight linking to connect arrival and departure flights, thereby creating turnarounds which enable schedule usage in other use-cases
High-level capacity checks to guide the feasibility of proposed schedule changes
Slot message handling to automatically include airline requests in your draft schedule, thereby easing your workflow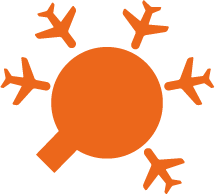 Airport Resource Allocation
Tactical and strategic aircraft stand, gate and check-in allocation decisions are easily made to identify unused capacity within the existing infrastructure and to avoid or delay high capital expenditure for expansions. Our world-class optimization engine will identify those hidden capacity gaps that are not visible by the human eye and open new opportunities.
Apply limitations and preferences to the usage of infrastructure by certain flights to reflect stand dimension requirements or airlines have their check-in counter in the zone they wish to be in. With the usage of flexible groups and constraints only to be entered exactly where they matter, there is no need to maintain complex rule engines. Scenario planning to test different allocation rules, airline preferences or construction plans are created within minutes. A modern Gantt Chart shows the results of the allocation and the output can be used as a schedule enrichment for terminal management solutions.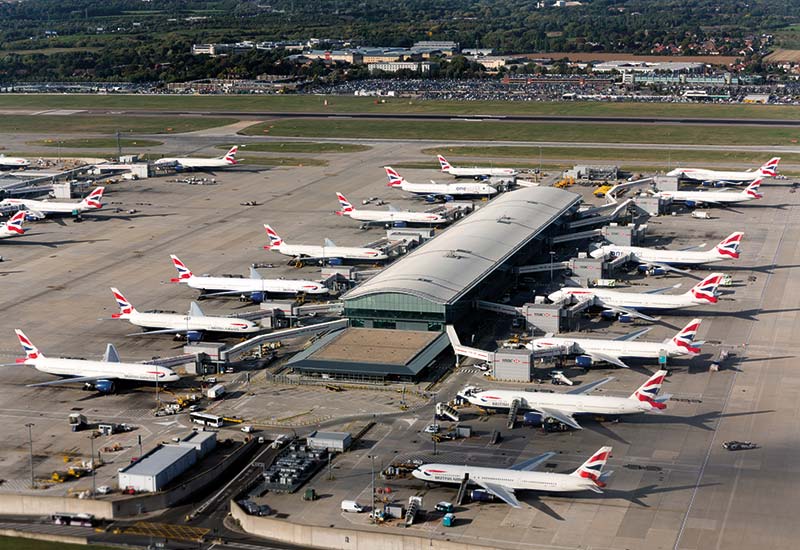 Benefits
High flexibility to simulate the most challenging and special operating conditions
Quick scenario creation to assist you in achieving results instantaneously
Minimized long-term capital expenditure by delaying expansion projects
Features
Detailed analysis of results through powerful Gantt charts
Resource optimization to signal the optimal operational expenditure and resource utilization
What-if analysis capabilities to help you test out various operating scenarios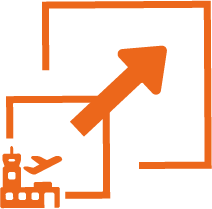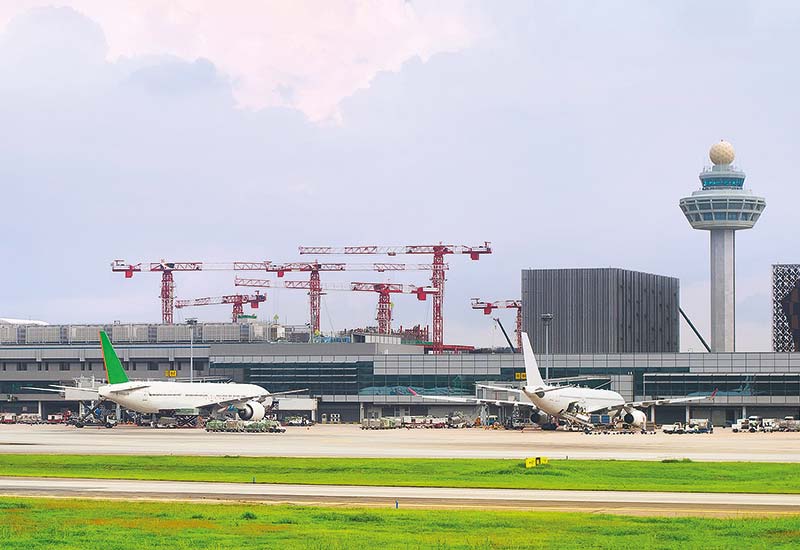 Strategic Development Planning
Validate your airport's strategic vision by linking developments in air traffic demand to the scale and timing of the required development. Using various dashboards, you can analyze your airport's development 20+ years into the future.
The Strategic Development Planning solution empowers you to make informed decisions about when and where your airport should invest into expanding it's facilities. This comprehensive solution guides you in finding the optimum time for an investment through intuitive guidance points within it's powerful dashboard.
Additionally, the high flexibility of the solution allows you to configure the operating conditions, facilities and passenger behavior for every timeframe within your investment period. This gives you full control over the operational aspects of the capacity plan that you need to prepare for your investment decisions.

Benefits
Holistic airport overview to understand interrelationships between facilities even for distant time horizons
Easy-to-use solution enabling to quickly and efficiently create business plans
High flexibility to model the greatest level of relevant detail for maximum accuracy, regardless of time frame
Features
Powerful dashboarding to provide you with all the relevant information for investment decisions
Aggregate and drill down functionalities to understand the overall airport and detailed facility performance at the same time
What-if analyses to test different future scenarios ensuring knowledge-based decision making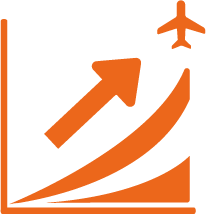 Long-term Traffic Forecasting
Generate top-down unconstrained long-term forecasts of your traffic for the next 30-40 years. The flexible approach uses macroeconomic factors to understand trends and guides you in producing the most likely growth scenarios. This industry best practice methodology can be applied to a flexible combination of traffic markets to add up to one overall annual number.
Our unique Flight Event Generator can be used to transfer an annual number into a real traffic schedule. With the built-in analysis of the traffic structure within each market, the additional flights are generated realistically and demand-driven to become your new design schedule. Use this schedule, for example, as an input into the "Strategic Development Planning" solution.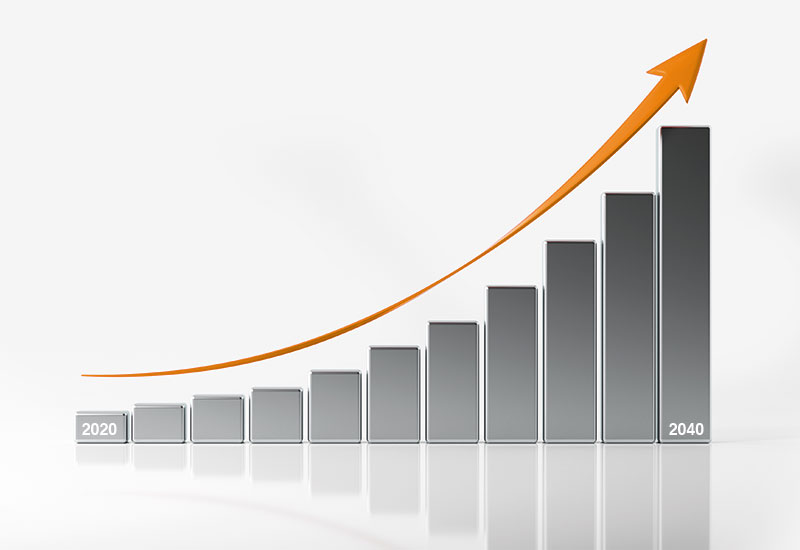 Benefits
Guided workflow empowering you to make the most out of your forecast
Control and transparency for maximum clarity and confidence on forecasting results
Fast scenario creation acting as time saver
Features
Matrix approach with high flexibility to enable high levels of forecast customization for maximized accuracy and substantiation
Monte Carlo approach to generate a probability range accounting for variability in predicted future outcomes
Growth driver analysis to help you understand which (macroeconomic) drivers propel your traffic growth