BEONTRA Horizons
Powerful planning platform specifically designed
for the aviation industry.
High forecast accuracy is only achieved when all data sources are automatically kept up to date. With our Horizons planning and prediction platform, airport planning is more efficient through timelier, data-driven decision-making that helps improve operations and the passenger experience. As an integrated platform, Horizons brings together disparate data from key functions across the airport into a single flexible and scalable system.
Horizon's algorithms are designed specifically for the aviation industry. With operational domain expertise and actionable predictive analysis, airports are better able to attract new airlines, expand current routes, accurately plan for the future, and optimize daily operations.
Our platform is comprised of a suite of solutions that make data collection and analysis easy. Spend less time manually aggregating data and deciphering conflicting data points. Gain a single source of truth by leveraging the Horizons platform and achieve maximum results.
Learn More About Our Solutions
Route Forecasting
Understand markets and traffic patterns, identify new route opportunities, and present airlines with business cases for new flights. Our Route Forecasting solution leverages historic and forward-looking datasets to analyze markets and to forecast passenger demand for new routes. This all-in-one tool empowers air service development teams to secure and grow their airport's network.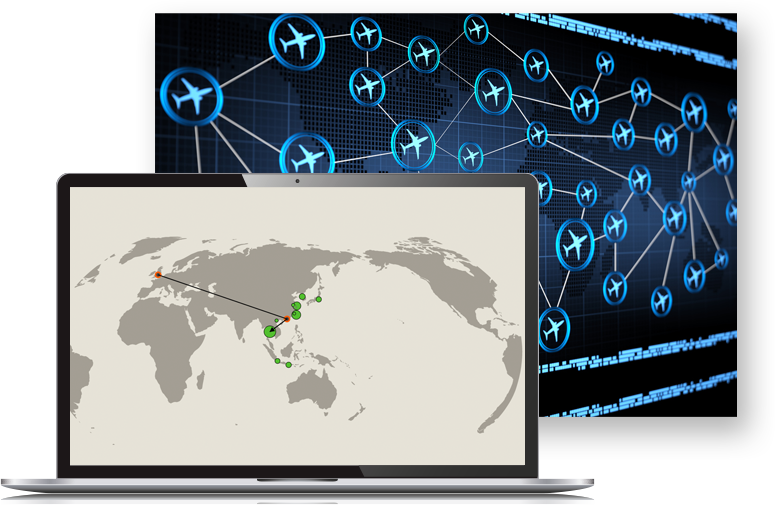 Benefits
Assess passenger demand and development for the past and future
Evaluate and benchmark a route's performance from the carrier's perspective
Monitor the health of your airport's network
Explore complex data in an easy to digest way and minimize your effort spent on data extraction
Derive strategies and actions from out-of-the-box insights
Identify opportunities and create business cases for new or improved routes
Differentiate from other airports through engaging presentations for your airline partners
Features
Integrated industry standard data:

Sabre Global Demand Data
Travel Search Data
Cirium Flight Schedules
Yield/Fare Information from Sabre and RDC
Airline Operating Cost

Ready-made insights into market and route development based on OD market sizes, airline travel patterns, and yield
Suggestion of new route opportunities based on traffic, competition, and demographic criteria
Forecasting of passenger loads for new or improved routes
Hub connectivity analysis to identify ideal flight times for new or existing air services
Budget Forecast
Create your flight and schedule-based aeronautical revenue forecast by season or by year with our Budget Forecast solution. You can keep your eye on growth targets through schedule-based forecasts of passengers, baggage, and freight by combining different data sources or multiple studies on individual markets to create a single, collaborative forecast.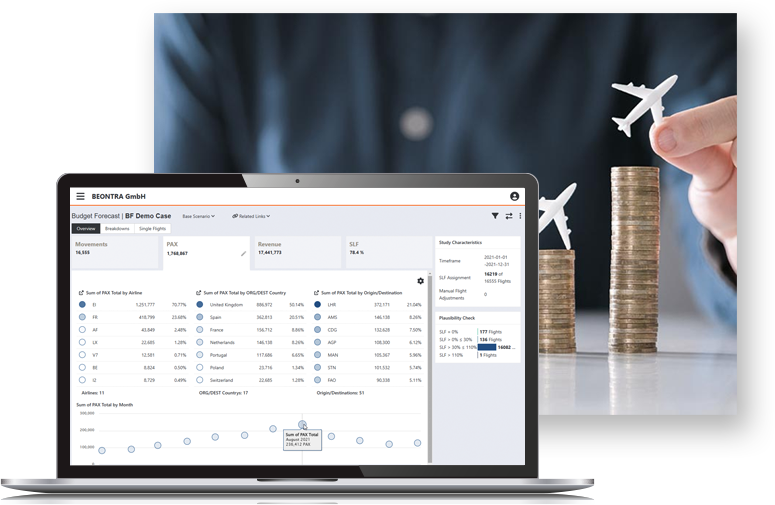 Benefits
High accuracy forecasting made for the aviation industry
Intuitive interface saves time with automated workflows
Built-in collaboration for more focused forecasting decisions using a centralized data source
Features
Intelligent algorithms derived from patterns in your historical data

Knowledge-based decision-making with scenario comparisons on key forecasting and planning actions

Guided automatic system develops customized forecasts
Security and Immigration Planning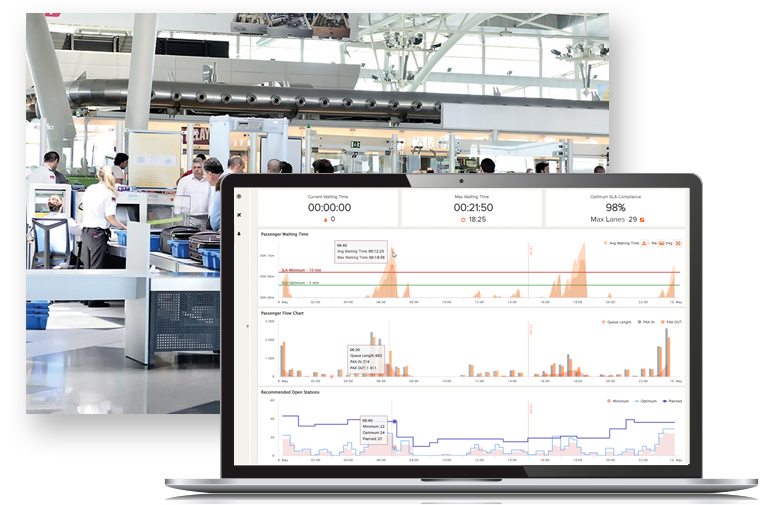 Optimize the number of open security or immigration lanes by balancing passenger queue times and operational expenditures with our Security and Immigration Planning solution. Through simulation of passenger behavior, the system evaluates your staffing plan to better understand where operational improvements and cost savings can be achieved.

Benefits
Reduce wait times for passengers and ensure Service Level Agreement compliance

Increase throughput across existing queuing areas and processing facilities

Optimize capital and operational expenditures supporting security and immigration processes
Features
Resource optimizer that identifies over or under staffing levels

Flexible settings for maximum accuracy in predicting infrastructure performance

API for automated passenger show up profile updates
Operational Terminal Awareness
Foresee potential bottlenecks or conflicts within the terminal and have time to reallocate staff or take preventative measures with our Operational Terminal Awareness solution. You have advanced, near real time insights to carry out mitigation strategies based on predictive forecasting that highlights potential impacts on facility operations.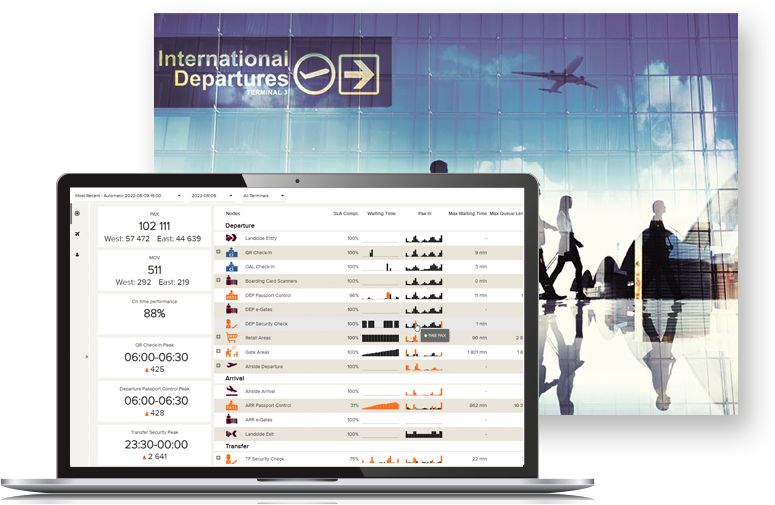 Benefits
Access to informative dashboard with key information related to expected queuing within the terminal

Next day insights on anticipated bottlenecks that will impact queues

Streamlined analysis on planned versus actual flight times, status changes, passenger numbers, and more
Features
Staffing suggestions based on forecasted passenger queuing when predictions differ from the current plan

Integration with Airport Operational Database for the most up-to-date information on expected passengers 

Operational dashboard showing the latest available flight operations and facility performance information
Terminal Capacity Management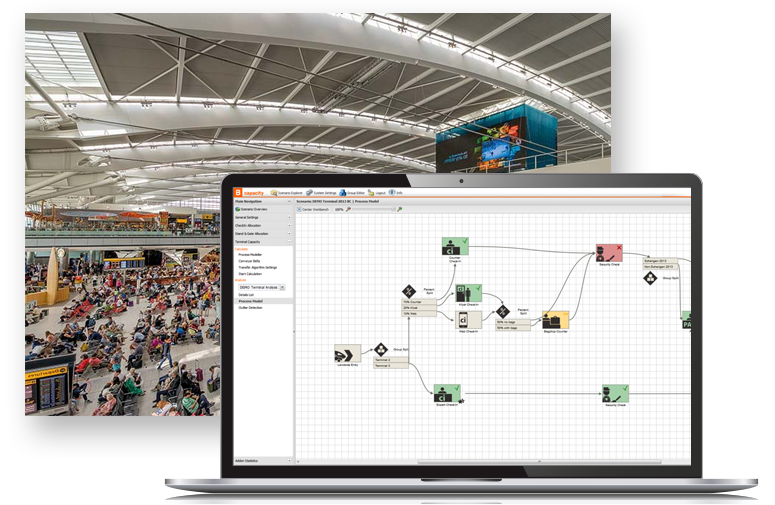 Get a holistic view of your terminal and passengers through Service Level Agreement planning, bottleneck identification, planned maintenance design, and identification of spare capacity with our Terminal Capacity Management solution. In minutes, you can simulate and test what-if scenarios to investigate expected passenger queues and determine the optimized resources needed – such as check-in desks, security lanes, or staff–to create a more accurate capacity plan.

Benefits
Identify the reason for bottlenecks and mitigate them

Reduce passenger wait times throughout the terminal

Optimize passenger flow while maximizing operational efficiencies

Minimize certain capital expenditures with better resource utilization
Features
Intuitive drag and drop functionality and flexible setting options to match terminal infrastructure and processes

What-if scenarios and analysis to examine any potential operating condition within the terminal

Analysis of optimized levels for resource utilization and operational expenditures
Operational Forecasting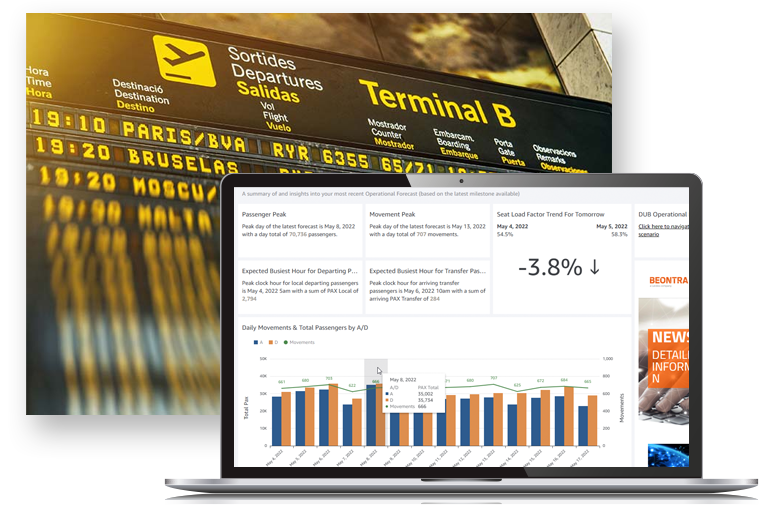 Limit uncertainties and know which flights are going to land and take off, as well as the loads they carry with our Operational Forecasting solution. Create an accurate schedule-based passenger forecast that is updated regularly with minimal effort. Gain access to the best possible schedule by combining multiple data sources leveraging machine learning algorithms to provide predictions for passengers, bags, cargo, and more.

Benefits
Less uncertainty regarding the pulse of your airport
Higher accuracy due to more frequent updates
Automated workflows to reduce the manual forecasting effort
Features
Compose schedules from multiple sources
Adjust schedules and automatically keep up to date via APIs
Machine learning forecasting algorithm for seat load factor, cancellation probability, and more
Airport Resource Allocation
Identify underutilized resources within the current infrastructure before embarking on high capital expenditures with our Resource Allocation solution. With better insight into hidden capacity gaps, you can test different scenarios for allocation rules, airline preferences, or construction plans, resulting in more informed decision making before committing budget to costly expansions.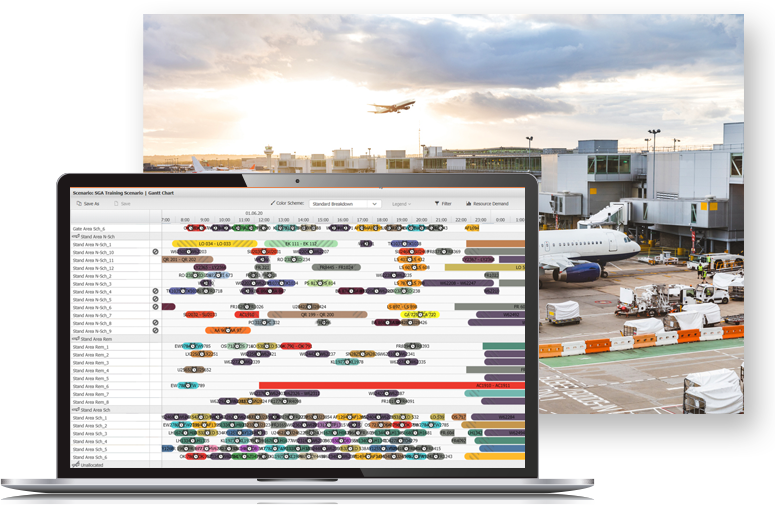 Benefits
Simulate the most challenging operating conditions with instant results

Apply limitations and preferences to test scenarios without the need to maintain complex rule engines

Minimize unnecessary long-term capital expenditures by tapping into underutilized resources
Features
Detailed analysis of reports provided in functional Gantt charts

Resource optimization predictions identify optimal operational expenditures and resource utilization

What-if functionality to easily test resource utilization
Strategic Development Planning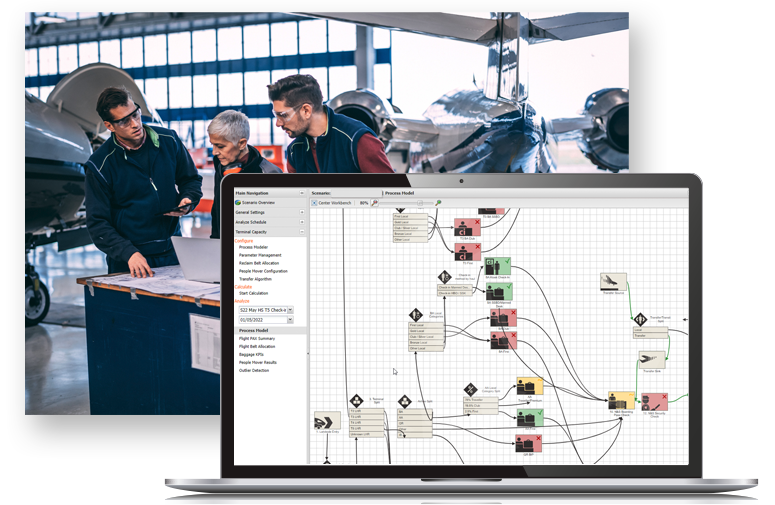 Validate strategic plans by linking air traffic data and demand to the scale and timing of planned development with our Strategic Development Planning solution. Make more informed business decisions on future airport development by understanding when and where investments should be made across the airport. Intuitive guidance points within the investment period gives full control over the operational aspects of the capacity plan you need to prepare.

Benefits
Intuitive dashboards of all relevant data points for informed investment decisions

Flexible modeling and scenario planning with accurate predictions
Features
Holistic airport overview with interrelationships between facilities across multiple time horizons

Data aggregation and drill down functionalities
Long-term Traffic Forecasting
Generate top-down and unconstrained long-term forecasts of traffic with our Long-Term Traffic Forecasting solution. Utilizing macroeconomic factors to understand trends, the guided workflow produces the most likely growth scenarios which can also be used as an input to the Strategic Development Planning solution.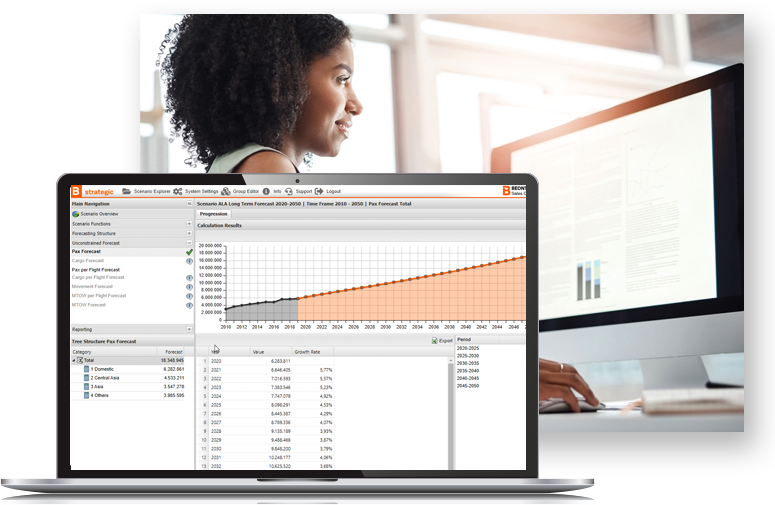 Benefits
Guided workflow streamlines the analysis for quicker, informed forecast decisions

Flexible modeling and scenario planning with accurate predictions

Manage uncertainty by taking into account a wider range of scenarios
Features
Matrixed approach for high level forecast customization

Monte Carlo approach to generate probability range accounting

Growth driver analysis identifies which macroeconomic factors propel traffic growth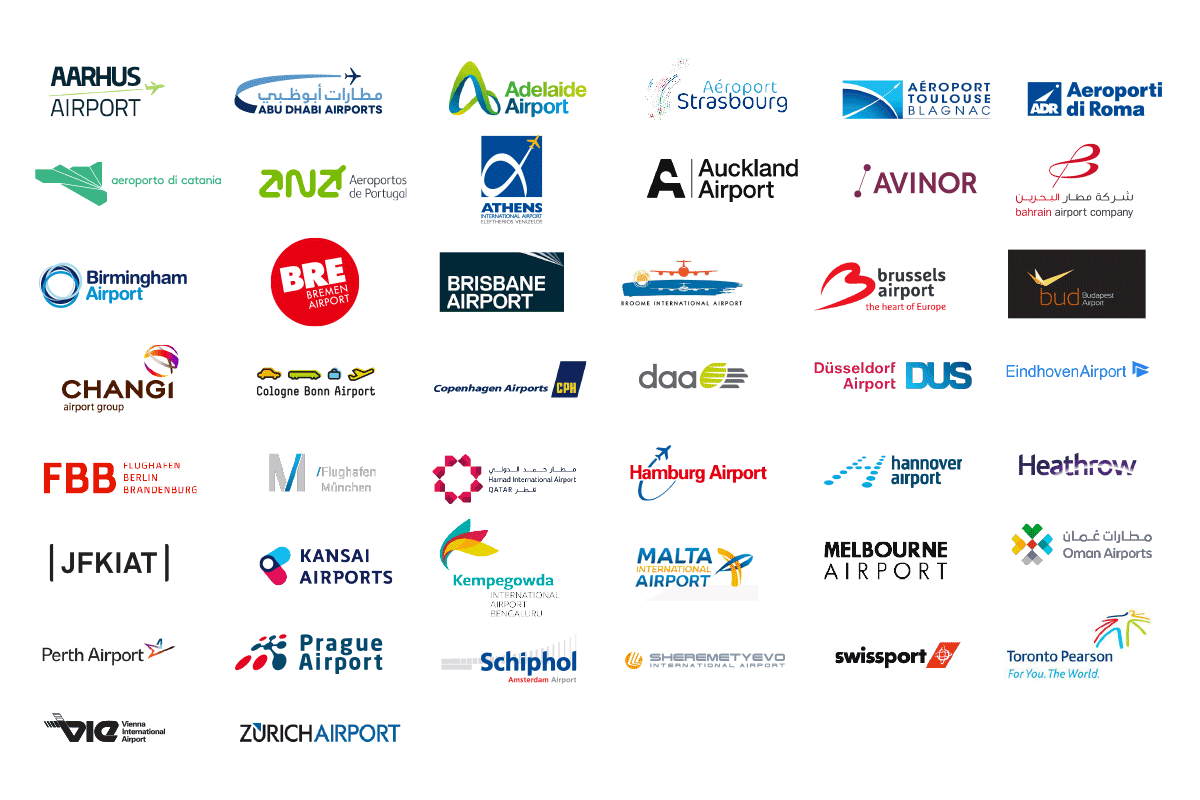 To find about more and book your free demo, please contact us. We'll be in touch soon!